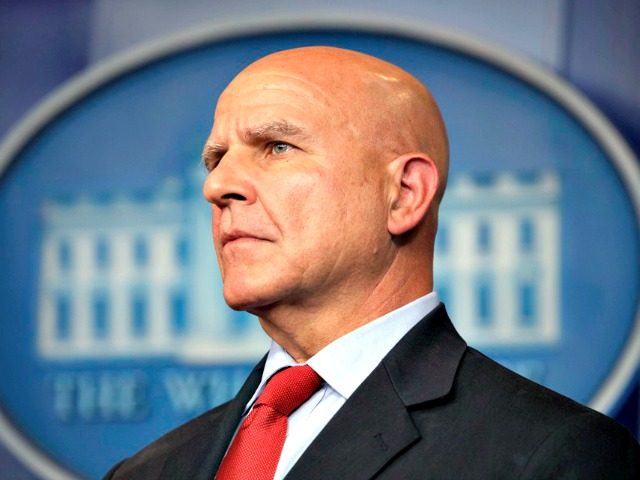 The Council on American Islamic Relations is backing President Donald Trump's national security adviser, Lieutenant General Herbert Raymond "H.R." McMaster, claiming over social media that "Islamophobes" and "white supremacists" were behind attacks to remove him from the White House.
In a tweet sent this week, CAIR wrote, "Islamophobia Watch: Islamophobes, white supremacists launch campaign to oust H.R. McMaster after he fired…" and linked to a Newsweek article titled, "Why Is the Alt-Right Attacking H.R. McMaster?"
#CAIR Islamophobia Watch: Islamophobes, white supremacists launch campaign to oust H.R. McMaster after he fired… https://t.co/K80AQobiwR

— CAIR National (@CAIRNational) August 3, 2017
CAIR was an unindicted co-conspirator in the Holy Land Foundation trial and Hamas financing case that resulted in the FBI discontinuing its working relationship with the organization. In 2009, a federal judge concluded that the government had found "ample evidence" to link CAIR with Hamas. Additionally, Breitbart News has previously reported that several of CAIR's board members, employees, and former employees "have been jailed or repatriated for various financial and terror-related offenses."
Breitbart has also noted that CAIR presented itself as a "civil rights voice for American Muslims" and "was founded by members of the Palestine Committee (PALCOM), an organization 'established to support Hamas.'" In addition to that, "Nihad Awad, currently CAIR's executive director, was previously an official at PALCOM." Awad has a long history of pro-HAMAS statements, according to critics. CAIR has posted its defense online.
In their article, which was tweeted out by CAIR, Newsweek reported that "The alt-right's beef with McMaster stems from his firing of Ezra Cohen-Watnick, the NSC's senior director for intelligence programs; Rich Higgins, the NSC's director for strategic planning; and Derek Harvey, the NSC's senior director for the Middle East."
Higgins was fired on July 21 after he wrote a memo in May complaining that globalists and Islamists were obstructing Trump's plans. Part of the memo, acquired by the Atlantic, argued that a "Maoist insurgency" had led "Islamists [to] ally with cultural Marxists" in order to undermine America.
The Atlantic noted that Higgins had also "pushed for declassification of documents having to do with radical Islam and Iran."
Meanwhile, the Conservative Review presented the argument against McMaster, going so far as calling him a "land mine" in what they perceive as President Trump's "self-immolation" and danger of becoming "a lame-duck president." It stated:
Trump often complains about all the obstacles inhibiting his success — from the media and Democrats to establishment Republicans and "deep state" administrative officials shooting at him relentlessly.

But that is no excuse to self-immolate and step on a grenade, or worse, bring the shooters into his own home base to mow down the president's most loyal supporters. McMaster is that land mine. It's time to get rid of that obstacle or risk becoming a lame-duck president.
On Monday, the Center for Security Policy called for the firing of McMaster for "disloyal and subversive behavior," and the Zionist Organization of America (ZOA) announced it was reviewing McMaster's positions, actions, and statements on Israel.
Last week, Jerusalem Post columnist Caroline Glick expressed concern about McMaster's approach towards Israel, writing:
According to senior officials aware of his behavior, he constantly refers to Israel as the occupying power and insists falsely and constantly that a country named Palestine existed where Israel is located until 1948 when it was destroyed by the Jews.

Many of you will remember that a few days before Trump's visit to Israel, Prime Minister Benjamin Netanyahu – בנימין נתניהו and his advisers were blindsided when the Americans suddenly told them that no Israeli official was allowed to accompany Trump to the Western Wall.

What hasn't been reported is that it was McMaster who pressured Trump to agree not to let Netanyahu accompany him to the Western Wall. At the time, I and other reporters were led to believe that this was the decision of rogue anti-Israel officers at the US consulate in Jerusalem. But it wasn't. It was McMaster.

And even that, it works out wasn't sufficient for McMaster. He pressured Trump to cancel his visit to the Wall and only visit the Yad Vashem Holocaust memorial — ala the Islamists who insist that the only reason Israel exists is European guilt over the Holocaust.

http://www.breitbart.com/big-government/2017/08/10/cair-defends-h-r-mcmaster-on-twitter-claims-islamophobes-white-supremacists-behind-effort-to-remove-him-from-white-house/
Comments
comments