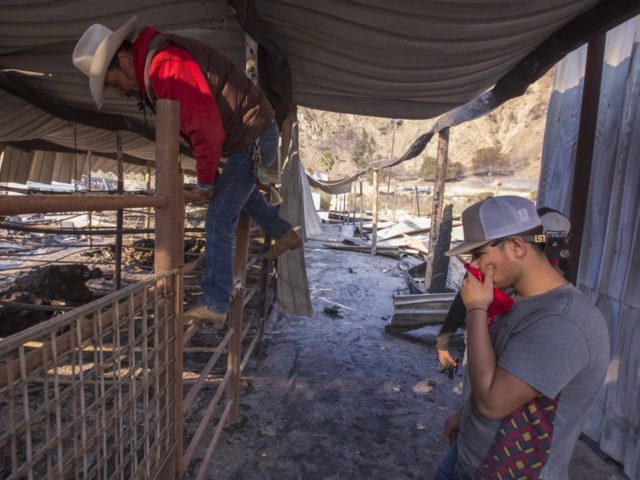 Los Angeles firefighters are racing against predicted high winds Wednesday night and Thursday morning as several fires burn throughout the area — with very little containment, and more extremely dry and windy weather predicted.
Emergency alerts warned residents of extreme Santa Ana winds, with gusts expected of up to 90 miles per hour, according to National Weather Service meteorologist Stephen Harrison, as quoted by the Los Angeles Daily News.
No human injuries or fatalities had yet been reported, but roughly 30 horses were killed in their stalls by the Creek fire in the eastern San Fernando Valley, according to media reports. Hundreds of animals were evacuated successfully from a nearby sanctuary.
For some it might just be a cat. But to others it's a friend, a loved one, a companion. The #LAPD has a motto, "To Protect and to Serve", and our officers have been displaying that in many ways during the #CreekFire & #SkirballFirepic.twitter.com/kmyHhvy9Fe

— LAPD HQ (@LAPDHQ) December 7, 2017
The fire had neared 13,000 acres and had destroyed 30 homes by late Wednesday, the Los Angeles Times reported.
Residents were urging each other to place water outside for wild animals fleeing the blazes, which are still — fortunately — conentrated on hillside woodlands.
The Skirball fire in west Los Angeles — named for the nearby Skirball Cultural Center, a local Jewish landmark — continued to blaze, expanding from 50 to 475 acres, according to media reports. The blaze threatened the Getty Museum, home to permanent and traveling exhibitions of world-class art. "Air filtration systems are protecting the galleries from smoke," the museum tweeted to reassure art lovers around the world. Some homes in the nearby Bel Air neighborhood were not so lucky, and four could not be saved from the flames, according to local authorities.
One of the more hopeful areas was Santa Clarita, north of the city, where the Rye fire had briefly shut down Interstate 5 on Wednesday. The Times reported that "firefighters were making significant gains" by the evening.
The largest fire, the Thomas fire in Ventura, had expanded to consumer 90,000 acres, with only 5% containment.
The conditions are so dangerous that the National Weather Service created a new color, purple, to designate areas of extreme risk from high winds, according to SFGate.com. (Maps previously had used only yellow, orange, and red.)
#SantaAnaWinds will continue to elevate fire danger in Southern CA with expectant winds reaching 80 mph on Thursday. Any new fires will have extreme levels of fire growth potential. Prepare now & be ready to GO! Learn more about evacuation preparedness: https://t.co/hHTBtHlGh9 pic.twitter.com/Tm0X2Tui6r

— CAL FIRE (@CAL_FIRE) December 6, 2017

http://www.breitbart.com/california/2017/12/06/l-firefighters-race-90-mph-wind-gusts-save-homes-art-animals/
Comments
comments