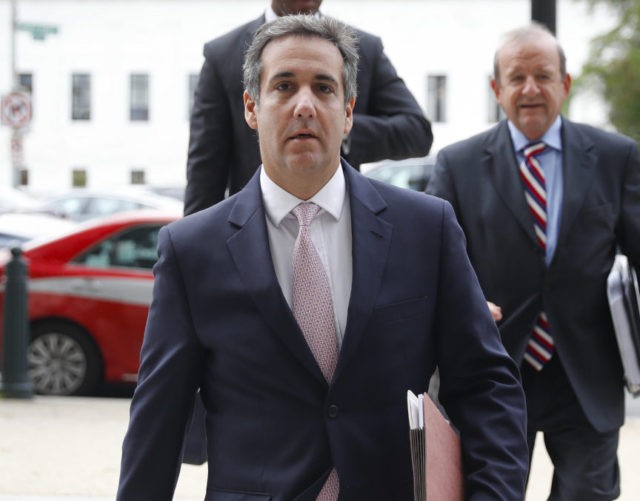 President Trump's personal lawyer Michael Cohen is suing BuzzFeed News and Fusion GPS over a dossier that includes unverified allegations linking Trump to Russia, Bloomberg News reported Tuesday.
BuzzFeed News had published the controversial document a year ago, while Fusion GPS was the political research firm behind the dossier.
"It will be proven that I had no involvement in this Russian collusion conspiracy," Cohen told Bloomberg. "My name was included only because of my proximity to the president."
Bloomberg noted that Cohen had informed reporters of the lawsuits but that the documents weren't immediately available on online court dockets.
Cohen is mentioned in the dossier as having suspicious ties to Russian figures. Those allegations remain unverified.
"The dossier is, and continues to be, the subject of active investigations by Congress and intelligence agencies. It was presented to two successive presidents, and has been described in detail by news outlets around the world. Its interest to the public is obvious," a BuzzFeed spokesman said in a statement to Bloomberg. "We look forward to defending the free press and our First Amendment rights in court."
A lawyer for Fusion also told Bloomberg that he had not seen the lawsuit and hadn't "received a letter from counsel on anything."
Cohen has been a person of interest in the probes into Russian interference in the 2016 presidential election.
He testified privately before the House Intelligence Committee and publicly before the Senate Intelligence Committee in two separate sessions in October.
The attorney said he told investigators that he had no contact with any Russian officials or did anything to hurt Democratic nominee Hillary Clinton's campaign.
He added that he and Trump "don't talk about" the Russia probes, because "why waste time talking about something that's not legitimate?"
Cohen declined to say to Bloomberg if he had been interviewed in special counsel Robert Mueller's probe into Russian election interference.
The dossier has remained a key aspect of the probes into Russian election meddling.
BuzzFeed has stood by its publication of the dossier. Smith published an op-ed in The New York Times earlier Tuesday defending the move.
A transcript of Fusion GPS co-founder Glenn Simpson's testimony before the Senate Judiciary Committee was also released earlier Tuesday, in which Simpson said a member of the Trump campaign had given information to the FBI that backed up some of the dossier's claims.
http://thehill.com/homenews/administration/368237-trump-lawyer-sues-buzzfeed-fusion-gps-for-defamation-over-dossier
Comments
comments