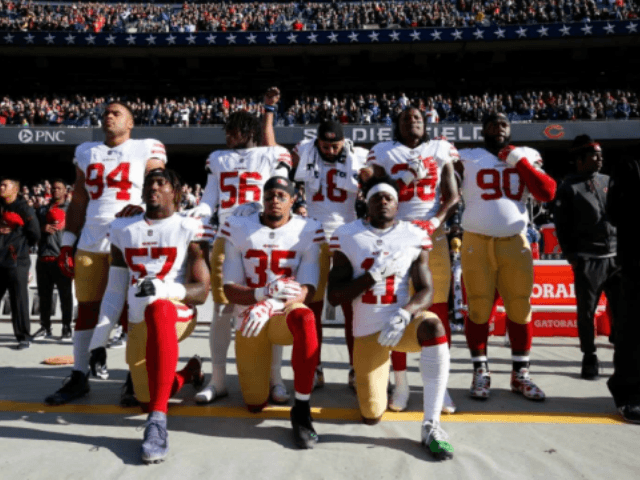 San Francisco 49ers linebacker Reuben Foster was arrested Sunday for charges of domestic violence and possession of an "assault weapon."
The San Francisco Chronicle quotes a press release from the Los Gatos-Monte Sereno Police Department which indicates that 23-year-old Foster "was arrested without incident in Los Gatos after police received a call around 9:15 a.m. about a disturbance." He was released at approximately 6:35 p.m.
The Mercury News' Robert Salonga reported Foster allegedly possessed an "assault rifle":
BREAKING: On top of domestic-violence allegation, @49ers linebacker Reuben Foster was arrested booked on suspicion of possessing an assault rifle@mercnews

— Robert Salonga (@robertsalonga) February 12, 2018
The Mercury News indicates that Foster is alleged to have assaulted his "longtime girlfriend." They report that "that police found a single SIG Sauer 516 short-barreled rifle" in the residence.
The 49ers released a statement on Foster's arrest:
Statement from #49ers on arrest of Reuben Foster: "The San Francisco 49ers organization is aware of the report regarding Reuben Foster. We take matters of this nature seriously and are gathering all pertinent information."

— Eric Branch (@Eric_Branch) February 12, 2018
Foster was also arrested Tuscaloosa, Alabama, on January 12 for marijuana possession.
Prior to both arrests, Foster drew attention to himself via participation in a national anthem protest. On October 22, 2017, the Sacramento Bee's Matt Barrows reported that Foster was one of eight 49ers to kneel "during the national anthem":
Reuben Foster among the eight #49ers who took a knee — hand on heart — during national anthem.

— Matt Barrows (@mattbarrows) October 22, 2017

http://www.breitbart.com/sports/2018/02/12/san-francisco-49er-anthem-protester-reuben-foster-faces-domestic-violence-gun-charges/
Comments
comments