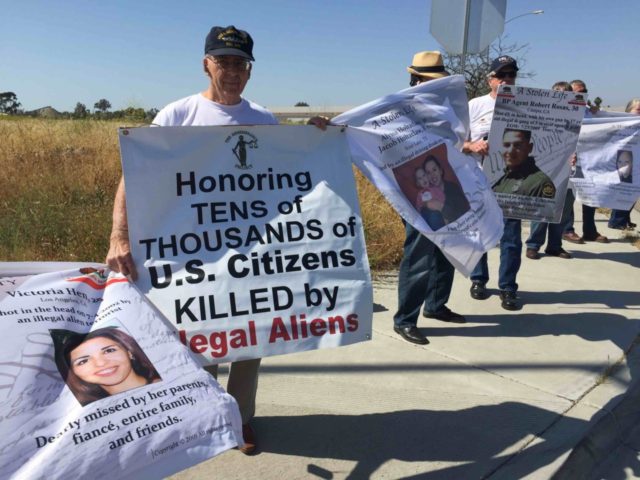 Jeff Schwilk, founder of San Diegans for Secure Borders (SDSB), joined Breitbart News Senior Editors at Large Rebecca Mansour and Joel Pollak on Monday's edition of SiriusXM's Breitbart News Tonight to share details of a rally scheduled Tuesday in San Diego, CA, to support President Donald Trump and the administration's proposals for construction of a southern border wall.
SDSB's Facebook page lists the details of the event for those wishing to attend, including slated speakers: "Travis Allen, Patriot Candidate for California Governor; Trevor Loudon, Author of "The Enemies Within; Tim Donnelly, Patriot Leader; Ben Bergquam, Co-founder www.FightSanctuaryState.com; Robin Hvidston, California State Coordinator for The Remembrance Project; Ruth Martin from Los Angeles – husband was killed by an ILLEGAL alien; and Raul Rodriguez, America First Latinos – California State Coordinator."
The rally is scheduled for 10 a.m. (Pacific Time) at 7425 Bristow Ct., Otay Mesa, San Diego, 92154. It is being coordinated with San Diego Patriots, FightSanctuaryState.com, The Remembrance Project, "and many other patriot groups," said Schwilk. Angel Parents will also be in attendance.
"The media is off the charts," said Schwilk. "Every national media in the country has not only done a pre-interview with me, but they're all going to be there tomorrow, all the big names, and they're going to be covering it."
Antifa, La Raza, and assorted left-wing groups are composed of "paid activists" and "radical freaks" who are unrepresentative of California's majority, said Schwilk.
"We always knew, when [Donald Trump] came down, we'd have to give him a welcoming party," said Schwilk. "We always knew, especially down here in San Diego, that the left is really organized, well-funded, and very large and they can bus people around and they can do multiple protests. We know we had to come out and show support for President Trump, because we represent the majority, not these paid activists and radical freaks that run around doing their radical protests. So, sure enough they're doing a couple of protests today, and they've got a couple of more tomorrow, but we just planned one big one. We don't try to keep up with their quantity, we go for quality."
"We just wanted to show the public, show the world, show the media, show Californians that we can muster hundreds of people out there," explained Schwilk. "We're going to show the world that the left doesn't run this state. It doesn't run Southern California. There's our side, too, and we actually represent the majority, unlike them."
Schwilk described supporters of a southern border wall as motivated by a desire for increased security in their cities.
"We just want to live in a safe city like every American in America. We've got enough domestic crime of our own, we don't need to add foreign [and] unknown criminals into the mix. We know what happens when that happens, you get murders, your child rapes [and] all sorts of horrible stuff. Those people should not be here. They're should have been vetted and not allowed in, but we still have an open border."
Leftist groups such as Antifa and La Raza had previously sought to shut down an SDSB event in December of 2017 through intimation and violence, recalled Schwilk. "A gang of 20 skinny, black-clad, black-masked kids came at us. They were a mixture of Antifa and La Raza, and they tried to shut us down. About five or six guys that happened to be coming to our rally … weren't going to have any of that. [Antifa and La Raza] wouldn't back down. They wouldn't stop coming towards our rally, so a brawl broke out and lots of bloody little La Raza kids left about ten minutes later, all bruised and batter. They came for a rumble and they got way more than they anticipated."
"When it comes time to push back, Americans will rise up and push back," said Schwilk. "This is for real. We're not going to let President Trump get bullied around. They're not going to shut down his tour."
http://www.breitbart.com/radio/2018/03/12/wall-pro-trump-ca-rally-organizer-when-it-comes-time-to-push-back-americans-will-rise-up-and-push-back/
Comments
comments