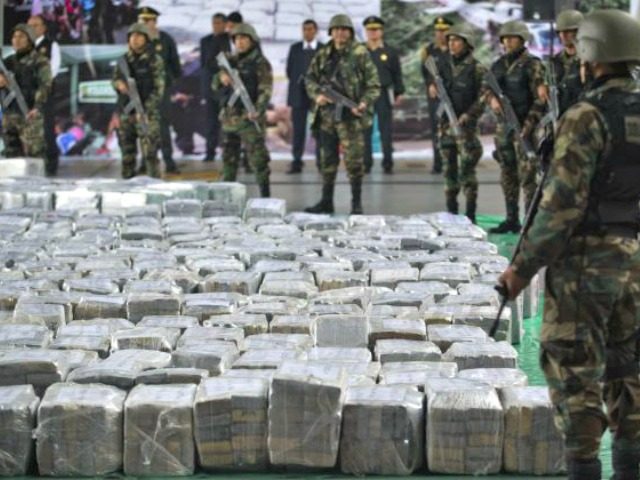 Senator Bill Cassidy (R-LA) says we should fund a U.S.-Mexico border wall using money confiscated from Mexican cartels.
"The cartels move about 110 billion dollars a year from the United States to Mexico," the Louisiana senator explained to Breitbart News Sunday host Amanda House. "If we can stop that, confiscate that money, we can use cartel money to build the wall. It won't be the Mexican government, it'll be the Mexican cartels [paying for the wall], and that's probably the better party to build it."
Cassidy introduced an amendment this year that would crack down on drug traffickers laundering money across the southern American border. The American government could then use the seized funds for increased border security and to build President Donald Trump's proposed border wall. A press release at the time read:
"It's estimated drug traffickers launder $110 billion between the U.S. and Mexico every year, but as best we can tell the U.S. government only captures about $7 billion," said Dr. Cassidy. "We need to do better. If we confiscate this money, we can pay for better border security and make drug traffickers less able to hurt our communities."

Cassidy's bill would:

Fully fund enhanced border security by issuing bonds overseen by the U.S. Attorney General and the secretaries of Homeland Security and the Treasury.

Ensure the bonds are repaid with money seized from and forfeited by drug traffickers moving illicit profits across the southern border.
Cassidy also discussed the problems with sanctuary cities on Breitbart News Sunday.
"It's illegal, and they should pay consequences," Cassidy told House, chastising local public officials such as Oakland Mayor Libby Schaaf, who sent out a warning to illegals before Immigration and Customs Enforcement (ICE) officials could apprehend suspects – many engaged in violence, sex trafficking, and other criminal charges.
In a March, Cassidy posted on Facebook:
It's crazy these California Democrats are protecting dangerous criminals instead of putting the safety and security of American citizens first. But that's exactly what they are doing.

Don't they care if an American's son or daughter is sexually assaulted?

Don't they care if an American's mother or father is robbed at gunpoint?

Don't they care if a wife or girlfriend gets beaten black and blue by her partner?

Some of these tragedies can be prevented—but not if sanctuary states and cities continue to stop the federal government from enforcing the law.

Enough is enough. We need to hold these elected officials accountable and protect Americans from dangerous criminals before more innocent people get hurt.

"If you have a mayor who's subverting the law, allowing people who are criminals to beat it out, before they get arrested and then in some cases, those criminals go out and commit other crimes, there should be a consequence on a federal level, but ideally the voters would vote them out. Most voters want safe streets, not less safe streets."

http://www.breitbart.com/radio/2018/05/14/exclusive-senator-bill-cassidy-build-wall-make-cartels-pay/
Comments
comments