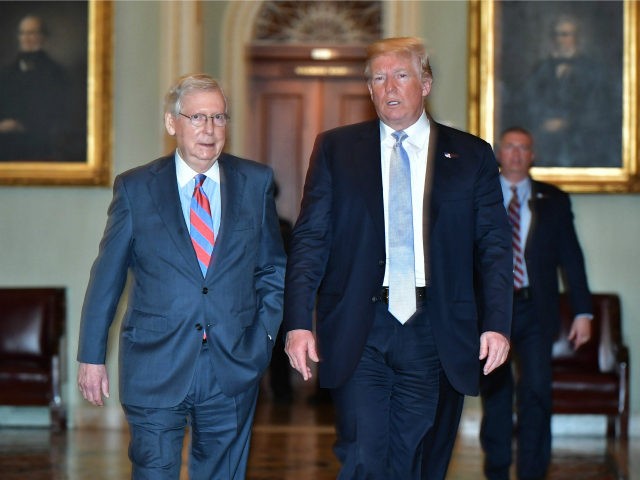 President Donald Trump visited Republican members of the Senate on Tuesday, but there was no discussion about the president's suggestion to keep Congress in Washington, DC, through the August recess or change the Senate rules to prevent Democrat obstruction.
McConnell told reporters after the meeting that Trump and senators did not discuss any rule changes to speed up the nominee confirmation process, suggesting it was not necessary. Sen. Richard Shelby told the Hill the president did not bring up the subject.
McConnell said he was "somewhat optimistic" about his conversations with Senate Minority Leader Chuck Schumer regarding "a higher level of cooperation" with the budget appropriations process in 2018.
The Senate faces a September deadline to pass a short-term funding resolution.
"We'll see how that works out," McConnell said, adding that cooperation with Democrats had "picked up" in recent months.
Trump spoke to Republican senators for about 45 minutes, attending the lunch after memorializing fallen law enforcement personnel in a Capitol Hill ceremony as part of Police Week in Washington, DC.
On Saturday, Trump endorsed the idea of canceling August recess if the Senate failed to pass a funding bill that included funding for the wall and border security on the southern border. He also criticized Democrats for obstructing his political nominees and his agenda:
The Senate should get funding done before the August break, or NOT GO HOME. Wall and Border Security should be included. Also waiting for approval of almost 300 nominations, worst in history. Democrats are doing everything possible to obstruct, all they know how to do. STAY!
Comments
comments