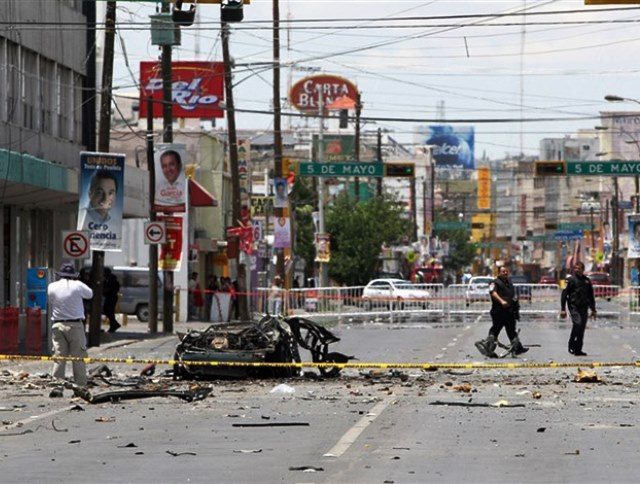 A gang hit in a Chihuahua state prison targeting a high ranking Los Aztecas member is believed to have unleashed a wave of violence which resulted in the killing of 26 people during a 24-hour period. Eleven victims were discovered in a Ciudad Juárez residence alone.
Juan Arturo Padilla, aka "El Genio" believed to have been the second in command of Los Aztecas, was murdered inside the state prison on Thursday, August 2, according to local reports. The disturbance was believed to have been staged as a diversion to allow incarcerated hitmen to locate and kill the Los Aztecas leader; which then sparked a series of killings throughout Ciudad Juárez. "El Genio" was captured in Michoacán in early July and transferred to the Chihuahua state prison to face murder charges.
In the most shocking series of killings, police were summoned to a second story residence in colonia Pradera de Los Oasis where they made the grisly discovery of 11 victims who were brutally tortured in what is believed to be a gang safe house where cocaine and methamphetamine were sold. The 11 victims consisted of eight men and three women who were either strangled or suffocated to death. The women were reportedly sexually assaulted, according to police and local media.
The shocking escalation of violence in Ciudad Juárez is attributed to the resurgence of the Juárez Cartel or "El Nuevo Cartel de Juárez" and a recent split of a key leader from Los Aztecas to La Línea.
Los Aztecas, also known as Barrio Aztecas, operate in the El Paso-Ciudad Juárez Metropolitan Border Area by performing hits for the Juárez Cartel in addition to extortion, kidnappings, and street-level drug sales. Los Aztecas are also in the midst of an internal conflict between the Old School Aztecas and a second faction loyal to the recently captured leader of La Línea. The split between former allies set off a deadly turf war. Local and federal law enforcement sources also cite the presence of the Sinaloa Cartel as a cause for violence throughout the border state abutting western Texas and New Mexico.
One law enforcement source who spoke to Breitbart Texas on the condition of anonymity said it is believed that La Línea and the aligned faction of Los Aztecas are currently eliminating the rival Los Aztecas faction.
Breitbart Texas reported on the escalating criminal activity in Ciudad Juarez, recently noting that the United States Consulate General issued a security alert prohibiting federal employees from traveling into the downtown area without advance permission, due to cartel violence.
https://www.breitbart.com/texas/2018/08/08/26-murdered-in-day-in-el-paso-juarez-metro-area/
Comments
comments