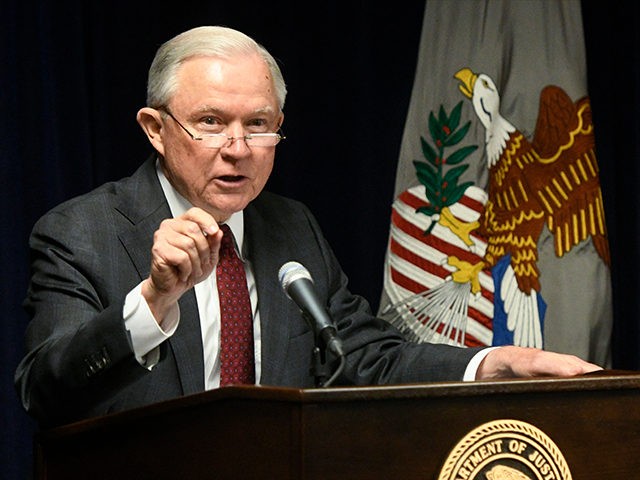 Attorney General Jeff Sessions criticized the left-wing Southern Poverty Law Center (SPLC) by name Wednesday as he spoke at the Religious Liberty Summit of the Alliance Defending Freedom (ADF), the successful Christian public interest law firm the SPLC designates a "hate group."
The ADF earned its SPLC "Anti-LGBT Hate Group" designation after a string of Supreme Court victories that enraged the far left, most notably the successful defense of a Christian Colorado baker who refused to adorn a cake with phrases condoning homosexual marriage in this year's Masterpiece Cakeshop v. Colorado Civil Rights Commission.
His address to the ADF summit included Sessions first public mention of the SPLC since Fox News's Tucker Carlson revealed the group's ongoing, but ill-defined, relationship with the FBI last month. Just days after that report, on July 30, the attorney general seemed to make oblique reference to the SPLC as he announced his new DOJ Religious Liberty Task Force. "We have gotten to the point where … one group can actively target religious groups by labeling them a "hate group" on the basis of their sincerely held religious beliefs," Sessions said.
On Wednesday, Sessions was much more explicit, praising the SPLC for its past work to combat racism in the South while condemning it for abandoning that legacy to attack right-leaning groups with which it disagrees. In his prepared remarks, Sessions said:
Yet people of faith are facing a new hostility. Really, a bigoted ideology which is founded on animus towards people of faith.

You'll notice that they don't rely on the facts. They don't make better arguments.  They don't propose higher ideals.

No, they just call people names—like "hate group."

Does that sound familiar?

You know I'm from Alabama—the home of the Southern Poverty Law Center, an organization that did important work in the South, vital work at a pivotal time. As you know well, the law is only words on paper until there are people brave enough to stand up for their rights.

There were hate groups in the South I grew up in. They attacked the life, liberty, and the very worth of minority citizens. You may not know this, but I helped prosecute and secure the death penalty for a klansman who murdered a black teenager in my state. The resulting wrongful death suit led to a $7 million verdict and the bankruptcy of the Klu Klux Klan in the South. That case was brought by the Southern Poverty Law Center.

But when I spoke to ADF last year, I learned that the Southern Poverty Law Center had classified ADF as a "hate group." Many in the media simply parroted it as fact. Amazon relied solely on the SPLC designation and removed ADF from its Smile program, which allows customers to donate to charities.

They have used this designation as a weapon, and they have wielded it against conservative organizations that refuse to accept their orthodoxy and choose instead to speak their conscience. They use it to bully and intimidate groups like yours which fight for the religious freedom, the civil rights, and the constitutional rights of others.

You and I may not agree on everything—but I wanted to come back here tonight partly because I wanted to say this: you are not a hate group (Emphasis added).

It had been known that the FBI used the SPLC as a listed resource on the "hate crimes" section of its website. Amid growing criticism of the SPLC's methods and tactics, however, the FBI stepped back from this public connection with the controversial left-wing group in 2014, removing links from its site. The Defense Department quickly followed the DOJ's lead, ending the use of SPLC content in its "training materials on hate groups or hate crimes."

But at the time the FBI removed public links, the SPLC itself insisted it still maintained relations with the nation's premier federal law enforcement agency. "We have frequent contact with FBI agents on a whole range of issues and we've trained them in the past," the director of SPLC's "Intelligence Project," Heidi Beirich, told Breitbart News at the time.

The Tucker Carlson Tonight report confirmed this last month, with an FBI representative telling the program, the Bureau "continues to have a relationship with the SPLC." The report revealed, for the first time, that a 2009 FBI internal memo referred to the SPLC as a "well-known, established and credible" group that had, as Beirich suggested in 2014, briefed FBI field agents on what constitutes "domestic terror threats." In light of the report, Rep. Matt Gaetz (R-FL) wrote a letter to the FBI asking for clarification.

Sessions' spokeswoman, Sarah Flores, quickly suggested a change may be afoot. "The attorney general has directed the FBI to re-evaluate their relationships with groups like this to ensure the FBI does not partner with any group that discriminates," she said in a statement to Carlson's show.

Sessions' statements at the ADF summit is the strongest indication yet that an official policy against legitimizing the SPLC with a relationship with the FBI or other DOJ element may be in the offing. The prospect made the leaders of three conservative think tanks the SPLC has smeared with the "hate group" label enthusiastic.

The Family Research Council (FRC), one of the country's largest Christian conservative think tanks and one of the SPLC's top targets as an "Anti-LGBT Hate Group," suffered perhaps the most serious consequence of the SPLC's campaign to foment hatred against conservatives in 2012. A gunman, Floyd Lee Corkins, marched into the FRC's Washington, DC, headquarters with more than 100 rounds of ammunition. Miraculously, a building manager, Leo Johnson, was able to subdue Corkins before he could kill anyone but suffered a gunshot wound in the process.

Some in the legacy media at the time saw no connection to politics, but it was quickly established Corkins had used the SPLC's "hate map" to locate the FRC by name because it was a "hate group" and was looking for "anti-gays" to murder.

FRC's executive vice president, Lt. Gen. (Ret.) William Boykin, spoke with Breitbart News in the aftermath of Sessions' first, veiled remarks on the SPLC, shortly before the attorney general's speech at the ADF summit. "Good for you, Mr. Sessions," he said. "He gets it. … For the United States government to use data from an organization that is proven to be uncredible is just beyond the pale."

Boykin said he would like to see a government-wide policy against using SPLC materials. "We're coming up on the sixth anniversary of a shooting in the lobby of FRC," he said. "We were targeted because [the SPLC] listed us as a hate group because of our stance on marriage. … We have a background here of being very clear about what we stand for and what we believe. And that offends the Southern Poverty Law Center because they are an arm of the extreme left, and they used their money and their power and influence to go after conservative groups, conservative individuals, as well as Christians."

"The extremist SPLC has lost all credibility to fairly determine what constitutes a hate group, so it is troubling to see the FBI looking to them for guidance," Dale Wilcox, executive director and general counsel for the Immigration Reform Law Institute (IRLI), an SPLC-designated "Anti-Immigrant Hate Group," told Breitbart News. "The Bureau should follow the lead of the Pentagon, which severed all ties with SPLC. Government agencies should not have a relationship with an organization that fosters hate while claiming to fight it."

Mark Krikorian, executive director of another "Anti-Immigrant Hate Group," the Center for Immigration Studies, told Breitbart News, "It's not clear how they decided. Obviously, it's nothing to do with our own conduct because they had not liked us before January of 2017, but that's when they magically declared us a so-called hate group. I think it was all about Trump."

"It doesn't surprise me that there was still some FBI relationship with SPLC because it's a bureaucracy, and inertia and momentum is going to continue from earlier administrations … but clearly, that needs to end," Krikorian said. "I expect the attorney general's comments are a signal that's happening."

Krikorian noted that his group has not been sidelined by the SPLC's attempts to remove immigration reductionist voices from the public sphere and is still widely cited in the press and call on to testify before Congress. "Luckily, we haven't had any actual violence directed toward us, although that's clearly part of the goal as we saw with the Family Research Council and the attack on the congressional [baseball] practice."

https://www.breitbart.com/big-government/2018/08/09/sessions-calls-out-splc-conservative-leaders-optimistic-fbi-cut-ties/
Comments
comments