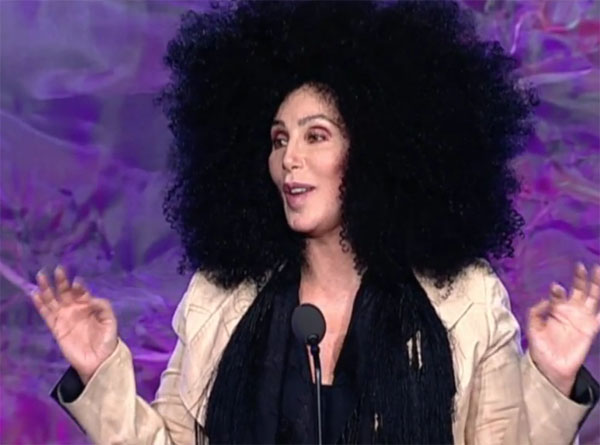 Pop icon and activist Cher declared that the Republican Party will "bite down hard" on the jugulars of Democrats and non-white people "till they bleed out" in a tweet sent Saturday.
"HOW LIMP R DEMS WHERE DO THEY HIDE THEIR EVIL GOP CONG,SEX& [BEER] SCOTUS,& [PUSSY] GRABBING PRES IS MARRIAGE MADE IN HELL BUT GOP WILL BITE DOWN HARD ON DEMS,& NON WHITES JUGULAR'S,TILL THEY BLEED OUT" she tweeted, in an emoji-filled post.
The 72-year-old singer has a long history of bizarre and unhinged tweets. Last month, she tweeted that Kavanaugh becoming part of the Supreme Court would result in all LGBT rights being taken away and all women losing "choice."
Cher has also said that Trump is a "cancer ravaging our nation" and a called him a "malignant tumor eating its way through our Constitution."
She has also tweeted that Trump is a "lying con man," a "criminal," a "conspirator, collusionist, traitor, imbecile, adulterer, hypocritical, narcissist, lecher, coward, charlatan, bully, decaying, sociopath, draft dodger, despot,& Loathsome RACIST RAT WHO EVER STOLE AN ELECTION,WITH PUTINS HELP."
Hollywood has been melting down over Brett Kavanaugh all week. Following Republican Sen. Susan Collins announcing her intent to vote yes on Brett Kavanaugh, many expressed hate and anger towards her.
"As a Buddhist it is my practice to have compassion for all people. But SenatorCollins is really testing my limits right now," George Takei tweeted.
Sarah Silverman tweeted, "So SenatorCollins either thinks that THREE women LIED to their husbands and therapists and children about sexual assault OR she just doesn't give a fuck."
"Susan Collins turns her back on women who have been traumatized by sexual assault. Elections have consequences. To start turning the ship of state back towards the rule of law, decency, truth, and the preservation of Democracy, Nov.6 has to be a lot more than a blue wave. VOTE!!!" Rob Reiner said.
Comments
comments