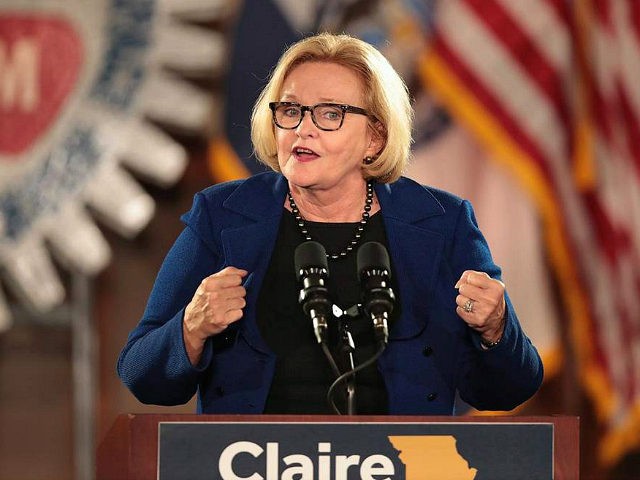 Missouri Democrat Sen. Claire McCaskill dodged a Weekly Standard (WS) reporter's question about whether she supports the Hyde Amendment "multiple times" before "finally" agreeing the federal government should not fund abortions through Medicaid.
On the eve of Election Day, the WS's John McCormack pressed McCaskill several times for her response to the question of whether she supports keeping the Hyde Amendment, which bans federal funding of abortion through the Medicaid program.
McCaskill proved slippery on the subject of abortion in general. The senator — who is in a tight race with Republican Josh Hawley — voted against a ban on most abortions past the fifth month of pregnancy.
When McCormack asked her if she could support any federal limit on late-term abortion, she replied, "Who are you with?"
McCormack's report continues:
When I informed her I work for THE WEEKLY STANDARD, McCaskill said: "You know what? You know what we're not doing? We are not doing national stuff this week if we can possibly keep from it. I'm all about Missouri this week."

That's not quite true. McCaskill's three press conferences were open to national press on Monday—she had happily taken questions earlier in the day in St. Louis from well-known NBC analyst John Heilemann, and, perhaps not quite as happily, from me.
When McCormack asked the senator if she supports the Hyde amendment, McCaskill "dodged the question multiple times before finally endorsing the general prohibition on federal funding of abortion for Medicaid recipients."
The abortion industry, however, fully supports repealing the Hyde Amendment, and Planned Parenthood contributed $5,000 to McCaskill's campaign.
McCormack notes that, while McCaskill has never actually voted on repealing the Hyde Amendment, "she did vote against permanently applying the Hyde amendment to a smaller health care program (the Indian Health Service) in 2008."
"Nine Democratic senators, including some who described themselves as 'pro-choice,' voted in favor of that measure," he observes, and adds, "McCaskill also voted for Obamacare, which provides taxpayer-funding for insurance plans that cover elective abortions. She has voted to keep federal 'family planning' funding for Planned Parenthood, the largest abortion provider in America."
In contrast, Hawley was endorsed by Missouri Right to Life Federal PAC in May.
"Our nation's laws and policies should protect the innocent and defend the most vulnerable among us," Hawley said. "We have a duty to speak up for those who cannot speak for themselves. The future of our state and our nation depend on it."
He continued:
It really shouldn't take political courage to stand up for innocent human life, but we have people in D.C. right now who are supporting extreme positions. And one of those Senators wants Missouri to re-elect her this fall. That's why we need to keep fighting for life and that's what I will do as Senator. Together we are a force – we must continue to defend the defenseless and help promote a culture of life throughout our great nation."
"Josh is a proven pro-life candidate," Missouri Right to Life executive director Susan Klein said.
"Because of Josh's work to protect unborn babies and women, his stand for life when he wasn't in elected office, and his commitment to stand for the truth even when times are tough, which is what it takes to be truly pro-life," she continued, "it is an honor for our Missouri Right to Life Federal Political Action Committee to give a single endorsement to Josh for the August primary and November general election for Josh to become our next U.S. Senator."
https://www.breitbart.com/politics/2018/11/05/democrat-sen-claire-mccaskill-dodges-hyde-amendment-question-multiple-times/
Comments
comments