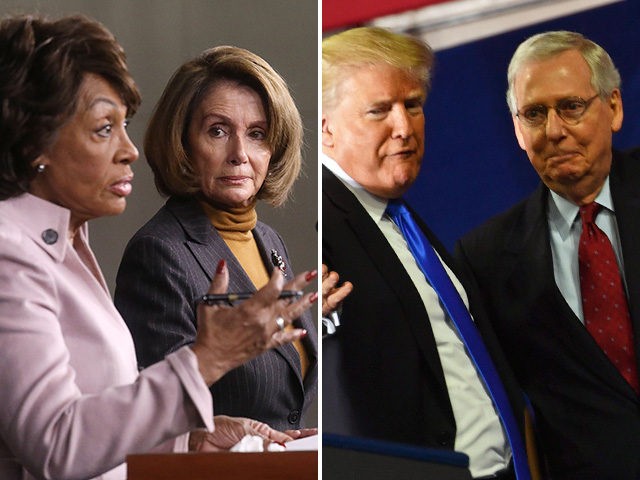 Welcome to the Breitbart News LiveWire of the 2018 midterm elections. Democrats need to pick up 23 seats to take back the House of Representatives and House Minority Leader Nancy Pelosi (D-CA), who is looking to regain her Speakership, said earlier in the day that she is 100% certain that Democrats will win back the House. As David Axelrod said on CNN, Trump will either win the House tonight or retiring House Speaker Paul Ryan (R-WI) will lose it.
Democrats are less optimistic about taking back the Senate, especially after President Donald Trump barnstormed across the country in recent weeks to stump for key Republican Senate candidates. Odds favor Republicans maintaining control of the Senate and perhaps even gaining a few seats.
All eyes will also be on key gubernatorial races in states (Georgia, Florida, Ohio, Wisconsin) that will have huge 2020 ramifications.
Precincts across key states have seen record turnout while voting machines have malfunctioned from Georgia to Texas, forcing voters to stand hours in line to vote. Exit polling revealed that health care was the top issue for midterm voters while immigration was the most important issue for GOP voters.
Stay tuned throughout the evening for live updates of all of the important races. All times eastern.
**************
11:29 AM: MONTANA:
10:24 AM: FLORIDA: AUTOMATIC RECOUNT IN SCOTT-NELSON RACE:
10:15 AM: GEORGIA: Results may not be certified for a week.
5:50 AM: ARIZONA: McSALLY STILL LEADING:
5:45 AM: MONTANA: Could Tester (D-MT) win re-election?
5:00 AM: CALIFORNIA, which will move to the front of the 2020 Dem. primary season, rejects gas tax repeal, passes measure to require all eggs sold in state to come from cage-free hens…
3:15 AM: NORTH CAROLINA, ALASKA: Republicans Mark Harris (R-NC) and Don Young (R-AK) win:
2:57 AM: ARIZONA SENATE– McSally (leading by 1.5 percentage points) vs. Sinema too close to call:
An official victor may not be known for days — and maybe longer, if the final tally were to trigger a recount or legal challenge, experts say. As Tuesday night ticked toward Wednesday morning, the lack of an outcome began to settle in.
2:45 AM: CALIFORNIA UPDATE:
2:30 AM: AP Calls Wisconsin Gov. for Evers over Scott Walker:
2:25 AM: CNN Calls Nevada Senate race for Dem. Jacky Rosen.
2:10 AM: Kemp still leading:
1:55 AM: GEORGIA: Abrams, who has never had a lead all evening, refuses to concede:
1:40 AM: MONTANA: Rosendale takes the lead over Tester.
Breitbart's SEAN MORAN: Matt Rosendale took the lead early Wednesday morning with 55 percent of the vote reporting, Rosendale has 48.9 percent vote, Tester has 48.2 percent
1:20 AM: Poll: Majority Don't Want Trump Impeached. Nearly 80% of Democrats do, though…
1:15 AM: NEVADA- Still waiting…
1:12 AM: EXCLUSIVE – Ron DeSantis Following Win: 'The Sky Is the Limit' for Florida
FLORIDA: DeSantis gives first interview to Breitbart's Aaron Klein following victory.
1:11 AM: CALIFORNIA: Nunes wins re-election.
1:10 AM: CALIFORNIA: Hunter projected to win re-election.
1:07 AM: IOWA 2020: Booker already eyeing Iowa:
1:06 AM: CALIFORNIA:
1:05 AM: TEXAS: Hurd wins re-election.
BREAKING: Republican Will Hurd wins re-election to U.S. House in Texas's 23rd congressional district. #APracecall at 11:51 p.m. CST. @AP election coverage: https://t.co/miEWlbTVZW #Election2018 #TXelection

— AP Politics (@AP_Politics) November 7, 2018
1:02 AM: ARIZONA: Kirkpatrick heads back to Congress:
1:00 AM: NEW YORK: Collins projected to win:
12:59 AM: FLORIDA: NELSON CONCEDES:
12:55 AM: SOUTH DAKOTA: Noem wins!
12:45 AM: MINNESOTA: Stauber wins.
12:40 AM: Health care:
12:30 AM: WH Statement from Sarah Sanders: "Tonight, President Trump called Leader Mitch McConnell to congratulate him on the historic senate gains. He also spoke with Speaker Paul Ryan and Minority Leader Nancy Pelosi. The President called to congratulate Rick Scott, Mike DeWine, Kevin Cramer, Josh Hawley, Brian Kemp, and Ron DeSantis. Lastly, the President talked to Sen. Chuck Schumer. He and the Vice President will continue to make calls tonight and tomorrow."
12:17 AM: IOWA: Reynolds (R) wins gov. race:
12:15 AM: Lame. The perfect candidate "soft" elite white Dems in the professional class who like being in the "weird" parts of red states. They see themselves in him:
12:12 AM: Love trailing:
12:10 AM: IOWA: Steve King survives:
12:05 AM: Trump calls Pelosi:
11:48 PM: DeSANTIS GIVES FIRST INTERVIEW AFTER WINNING RACE TO BREITBART'S AARON KLEIN:
11:35 PM: Pelosi takes the stage at the DCCC party and the crowd chants "Speaker!" Pelosi recognizes the Dem. leadership. Pelosi says Democrats "owned the ground" and "tomorrow will be a new day in America."
"Remember this feeling. Know the power to win," Pelosi talks about how Democrats will protect health care and awkwardly says, "let's hear it more for preexisting medical conditions." She claims Democrats will "strive for bipartisanship" and talks about a "bipartisan marketplace of ideas" that will "bring us together." Her left-wing base may not agree.
11:30 PM: PENNSYLVANIA:
11:25 PM: Pelosi, Dems getting ready to celebrate:
11:15 PM: TRUMP:
11:10 PM: MIZZOURI: Hawley projected to defeat McCaskill (D-MO).
11:02 PM: VIRGINIA: Spanberger defeats Brat:
11:01 PM: IOWA:
11:00 PM: Polls closed in California, Hawaii, Washington.
10:59 PM: CNN Projects Democrats will win back the House "with a very high degree of confidence."
10:53 PM: OHIO: DeWine (R) projected to win. Huge for 2020.
10:50 PM: IOWA: Axne (D) projected to win House race.
10:48 PM: IOWA UPDATE (Steve King) from BINDER:
With 6% reporting, Democrat JD Scholten is leading Republican Steve King in Iowa's 4th District by 4 percentage points. King will need his base of support and the rural areas of the district to come out tonight.
10:46 PM: MONTANA:
10:45 PM: IOWA update from BINDER:
With 5% reporting, Democrat Abby Finkenauer is beating Republican Rod Blum in Iowa's 1st Congressional District by 21 percentage points.
10:40 PM: FLORIDA: DeSantis projected to win:
10:28 PM: CNN PROJECTS REPUBLICANS WILL MAINTAIN CONTROL OF SENATE.
10:27 PM: VIRGINIA:
10:26 PM: Bad night for Never Trumpers.
10:25 PM: UTAH:
10:23 PM: TEXAS: Rep. Pete Sessions (R-TX) loses:
10:19 PM: UTAH: Mitt (R-Never Trump) Headed to Senate:
10:15 PM: TEXAS: Cruz projected to defeat Beto (D-Hollywood). Cruz win like a team favored to win by two+ touchdowns barely winning by a field goal. Great teams cover.
10:05 PM: NORTH DAKOTA: Cramer projected to defeat Sen. Heitkamp (D-ND).
10:03 PM: KANSAS: Kelly (D) defeats Kobach:
10:01 PM: The Democratic-Socialist from Westchester is headed to Congress:
10 PM: Polls closed in Idaho, Iowa, Montana, Nevada, Oregon, and Utah.
9:59 PM: FLORIDA: Curbelo (R) loses.
9:50 PM: INDIANA:
9:39 PM: FOX NEWS PROJECTS DEMS WILL TAKE HOUSE before polls close in Western states?
9:37 PM: NEW JERSEY: AP calls race for Menendez (D).
9:36 PM: WISCONSIN: Baldwin (D) wins re-election, defeats establishment GOP candidate Vukmir:
9:35 PM: Breitbart's Binder on VIRGINA–BRAT v. SPANBERGER:
As 95% is now in for Virginia's 7th District, Dave Brat is trailing Democrat Spanberger by less than 300 votes.
9:33 PM: "Kavanaugh, the caravan, law and order, and common sense."
9:30 PM: GEORGIA GOV:
9:29: TEXAS: Beto vs. Ted
9:27 PM: More signs that the Blue Tsunami ain't happening:
9:25 PM: Pobrecita! CNN's Van Jones heartbroken. He thought "antibodies" would kick in against the "infestation" of hatred… Elite media members look very sad yet again. They still haven't figured out how much regular people hate their smugness.
9:20 PM: TEXAS TIGHT:
9:10 PM: NEW JERSEY:
9:08 PM: TENNESSEE: Taylor Swift doesn't move the needle. MARSHA BLACKBURN (R) projected to win Senate seat.
9:07 PM: TEXAS: Race easily called for Abbott:
9:06 PM: WEST VIRGINIA: MANCHIN wins re-election with help from Coach Nick Saban, Coach Bob Huggins, and The Logo:
9:05 PM: VIRGINA–BRAT v. SPANBERGER:
9:03 PM: FLORIDA
9:01 PM: MICHIGAN:
9:00 PM: Polls now closed in Arizona, Arkansas, Colorado, Louisiana, Minnesota, Nebraska, New Mexico, New York, Wisconsin, and Wyoming.
8:50 PM: VIRGINIA: BRAT v. SPANBERGER update from Breitbart's Binder:
With only 6% percent of the vote still out in Virginia's 7th District, GOP Dave Brat is behind Democrat Abigail Spanberger by 533 votes.
8:49 PM: INDIANA: BRAUN (R) PROJECTED TO WIN KEY SENATE RACE OVER INCUMBENT DONNELLY (D-IN).
8:47 PM: KENTUCKY: Barr (R-KY) projected to win re-election.
8:41 PM: Breitbart's John Binder on KANSAS:
With 1% reporting in Kansas gubernatorial race, Democrat Laura Kelly leads Republican Kris Kobach by only 774 votes. Kobach needs Sedgwick County to come out strong for him to make up for Kelly's stronghold's in the Kansas City metro region.
8:30 PM: Good news for GOP:
8:26 PM: VIRGINIA: Brat vs. Spanberger:
Brat leads by 2,500 votes with 80% of the votes in…
8:23 PM: FLORIDA:
8:15 PM: VIRGINIA: GOP Holds on to House Seat; Olivia Wilde's Dem. Mom Loses:
8:13 PM: FLORIDA: GOP holds on to House seat:
8:10 PM: FLORIDA: Scott, DeSantis take leads as votes from the Florida panhandle come in…
8:09 PM: TEXAS: Beto has a very, very, very  early lead over Cruz.
8:05 PM: ILLINOIS: Race called for Pritzker in gov. race.
8:03 PM: FLORIDA: Shalala projected to win FL House seat.
8:00 PM: Polls closed in Connecticut, Delaware, the rest of Florida, Illinois, Kansas, Maine, Maryland, Massachusetts, Michigan, Mississippi, Missouri, New Jersey, North Dakota, Oklahoma, Pennsylvania, Rhode Island, South Dakota, Tennessee, and Texas.
7:58 PM: INDIANA:
7:55 PM: OHIO SENATE: NBC Calls for Sen. Sherrod Brown (R-OH):
7:50 PM: VIRGINIA: Spanberger (D) vs. Brat (R-VA) going down to the wire:
7:45 PM: VIRGINIA:  Wexton (D) projected to win in Northern Virginia:
7:40 PM: West Virginia, Ohio Senate races leaning Dem:
7:30 PM: Polls now closed in North Carolina, Ohio, and West Virginia.
7:27 PM: INDIANA:
7:20 PM: Gillum and Nelson have slights leads in Florida.
7:15 PM: KANSAS:
7:03 PM: Scott jumps out to early lead as first numbers come in:
7 PM: Polls now closed in Alabama, Florida, Georgia, New Hampshire, South Carolina, Vermont, and Virginia.
Dems asking voters to stay in line:
If you are in line by 7pm, you ARE allowed to vote. Long lines have long-term value — this election isn't about the next 4 years, it's about the next 40. Don't leave the polling place until you case your ballot and #BringItHome

— Andrew Gillum (@AndrewGillum) November 6, 2018
NO Surprises in VT, VA Senate races: Races called for Sen. Bernie Sanders (I-VT) and Tim Kaine (D-VA) right after polls close.
6:50 PM: KENTUCKY:
6:47 PM: INDIANA: Braun doing well:
6:45 PM: FLORIDA, TENNESSEE: Huge turnout:
6:35 PM: KENTUCKY: AP calls race for Rep. Hal Rogers (R-KY):
6:20 PM: INDIANA SENATE: 52% of Hoosiers approve of Trump, according to CNN's exit polling.
6:12 PM: TEXAS: Harris County polling places ordered to remain open late:
6:11 PM: GUAM
6:10 PM:
6:09 PM: Breitbart's Sean Moran: Braun (R) and Barr (R-KY) have early leads in Indiana and Kentucky, respectively:
Mike Braun early lead with 2,750 votes, Joe Donnelly 1,801, and Libertarian Lucy Brenton 244.
Rep. Andy Barr (R-KY) has an early lead with first polls in Kentucky with 304 votes, while Amy McGrath has 207 votes.
6:08 PM: The media and establishment Republicans have done everything they could to downplay the obvious in past elections. Immigration matters to Americans:
6:05 PM: Exit polling from ABC:
Party ID: Democrats account for 38 percent of voters in exit poll results so far, Republicans for 32 percent and independents for 30 percent. That compares with 36-37-27 percent in 2014, and 37-33-29 percent in 2016.

Ideology: Liberal-moderate-conservative group sizes in results so far are 27-38-36 percent. That compares with 22-39-38 percent in the 2014 midterms. (And 26-38-36 percent in 2016.)

Sex: Women account for 52 percent of voters in preliminary results, matching their previous high in a midterm from 2010.

Race: Nonwhites account for 28 percent of voters nationally in preliminary results. The highest in any previous midterm was 25 percent in 2014. These compare with a low of 9 percent in 1990.
6:02 PM: According to CNN's exit polls, 16% are first-time voters and 65% made up their minds about House races more than a month ago.
6 PM: Polls are closed in some parts of Indiana and Kentucky. The first close race of the night will be between Rep. Andy Barr (R-KY) and Democrat Amy McGrath in Kentucky's 6th District.
Comments
comments