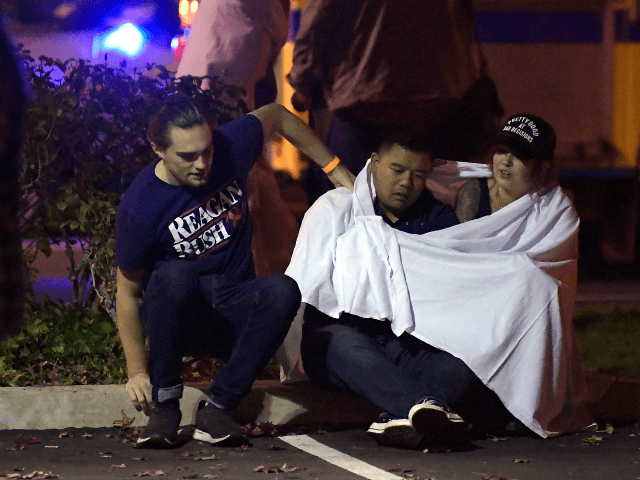 At least 12 people were shot and killed at country dance bar in Thousand Oaks, California, Wednesday night.
The identified gunman is dead. Fox News described the assailant as "a mysterious man in black clutching a semi-automatic pistol." One of the first responders, local police Sgt. Ron Helus, is also listed amongst the dead.
The Borderline Bar & Grill was full of students who had come for "country night," when shots rang out around 11:20 pm. Witnesses say the gunman, who was reportedly wearing a trenchcoat, did not say a word before he opened fire.
People comfort each other as they stand near the scene Thursday, Nov. 8, 2018, in Thousand Oaks, Calif. where a gunman opened fire Wednesday inside a country dance bar crowded with hundreds of people on "college night," wounding 11 people including a deputy who rushed to the scene. Ventura County sheriff's spokesman says gunman is dead inside the bar.
Some witnesses say the gunman used smoke grenades to conceal himself as he shot.
The University has determined that multiple Pepperdine students were on site at Borderline Bar and Grill in Thousand Oaks. At this time, the University is working to identify and provide support to those students. (1/2)
CNN reports that Sgt. Helus, was one of the first officers to reach the scene. He was shot multiple times and died hours later.
Helus had been with the Ventura County Sheriff's Office for 29 years and was set to retire in roughly a year.
Ventura County Sheriff Geoff Dean says the gunman was found dead inside the bar when other officers rushed in.
California has universal background checks, gun registration requirements, gun confiscation laws, a 10-day waiting period on gun purchases, an "assault weapons" ban, a minimum firearm purchase age of 21, a ban on campus carry, a "good cause" restriction for concealed carry, and controls on the purchase of ammunition, among other things.
https://www.breitbart.com/politics/2018/11/08/photos-at-least-12-people-including-police-officer-shot-and-killed-in-ca-dance-bar/
Comments
comments