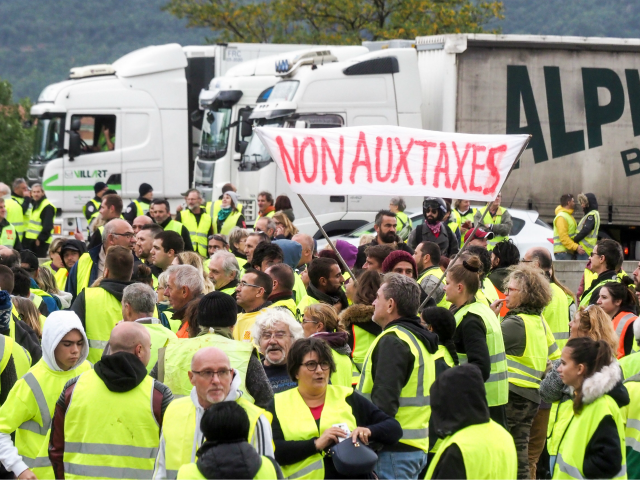 Following some of the worst riots seen in Paris in decades, the vast majority of French people still support the goals of the Gilets Jaunes (Yellow Vests).
A survey of 1,016 people conducted by the polling firm Harris has revealed that even after the riots that saw cars and buildings burned on the Champs-Élysées, 72 per cent of respondents said they still support the movement, broadcaster RTL reports.
The figures are not dissimilar from polls taken in the aftermath of the first protests on November 17th which saw nowhere near the same levels of violence but did see one death from a car speeding into a crowd of protestors.
The polling firm also found that an overwhelming majority of French, 85 per cent, were against the use of violence during the protests with only 15 per cent finding violence justifiable.
Among those who expressed support for the movement, the numbers were only slightly different with 81 per cent condemning the violence, while 19 per cent said they approved of it.
Paris in Flames: Violence, 'Insurrection' in Third Week of Yellow Jacket Protests https://www.breitbart.com/europe/2018/12/02/paris-erupts-into-flames-violence-insurrection-in-third-week-of-yellow-jacket-protests/ …

Paris in Flames: Violence, 'Insurrection' in Third Week of Yellow Jacket Protests

In a third straight week of protests by the Yellow Vest movement, hundreds of protestors were arrested in what has been called an "insurrection".

breitbart.com
The violence over the weekend has largely overshadowed the original purpose of the protests, which were to pressure French President Emmanuel Macron to rethink a tax on fuel as part of his green agenda.
Some, such as populist former MP Marion Maréchal (formerly Marion Le Pen), have claimed that the violence has been due to far-left extremists infiltrating the movement and using it as an excuse to smash property and clash with police.
The theory of Ms Maréchal seemed to gain credibility on Saturday as the Arc de Triomphe was seen to be covered in far-left extremist graffiti including the phrase, "the ultra-right will lose!"
The core of the movement, according to French writer Renaud Camus, is an uprising of regular people who are protesting the globalist elites, who he refers to as the "Davocracy."
In an interview with Breitbart London, he said the core of the movement was about "lack of respect, general exchangeability, being treated by managerial politics like an object, a simple product. A product, a producer, and a consumer all at once, a thing, a number, not a human being."
https://www.breitbart.com/europe/2018/12/04/despite-wave-violence-72-percent-french-still-support-yellow-vest-movement/
Comments
comments