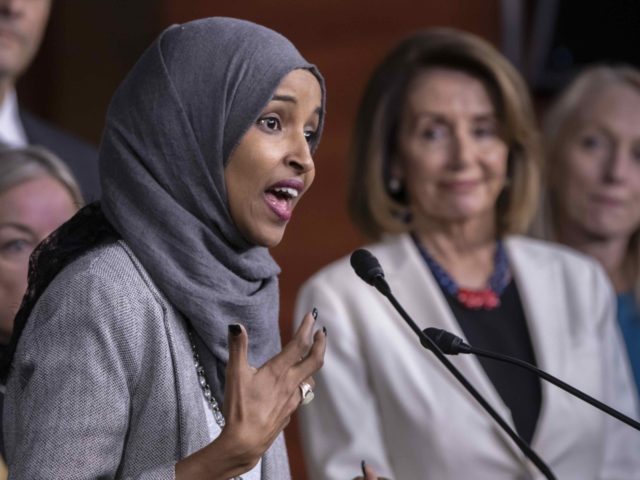 Jewish leaders criticized Rep. Ilhan Omar (D-MN) on Sunday evening over tweets in which she alleged, falsely, that members of Congress support Israel because they are paid to do so, evoking classic anti-Jewish stereotypes.
Omar was taken to task by left-wing Jewish pundits — who normally share many of her criticisms of Israel — after she tweeted, "It's all about the Benjamins baby," in explaining why American politicians support Israel. She also accused the American Israel Public Affairs Committee (AIPAC), a pro-Israel lobby group, of paying them — though AIPAC does not donate to politicians.
Rather than acknowledge the explanation that Congress tends to support Israel because Americans in general broadly support Israel — with nearly two-thirds favoring Israel over the Palestinians — Omar doubled down throughout the evening against the "Israel lobby."
In response, Jewish organizations spoke out. The American Jewish Committee (AJC) demanded that she apologize:
Omar also retweeted an attack on Jewish billionaire Sheldon Adelson, who actually fundsa rival group to AIPAC.
Speaker of the House Nancy Pelosi (D-CA) appointed Omar to the House Foreign Affairs Committee last month. She has, thus far, ignored calls to remove Omar from that committee given her views on Israel and other issues.
Earlier Sunday, Omar told CNN that it was "exciting" that her anti-Israel views were stirring debate in Washington. A spokesperson told Politico later Sunday that Omar's controversial tweets "speak for themselves."
https://www.breitbart.com/politics/2019/02/11/jewish-leaders-outraged-by-democrats-ilhan-omar-antisemitic-tweets/
Comments
comments