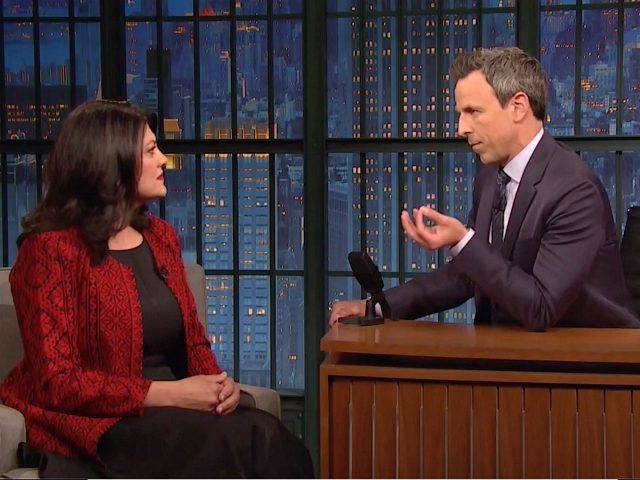 Rashida Tlaib to Seth Meyers: 'Racist Idiots' Took My Holocaust Comments Out of Context
Appearing Monday evening on NBC's Late Night with Seth Meyers, Rep. Rashida Tlaib (D-MI) was unapologetic about her remarks regarding the Holocaust, claiming "racist idiots" had twisted her words and quipped that she will speak like a fourth grader in an effort to be better understood.
Tlaib, who has made several antisemitic statements since arriving in Washington last year, is yet again under fire for falsely claiming Palestinians offered a "safe haven" for Jews fleeing the Holocaust, whitewashing Palestinian opposition to Jewish immigration and its leadership's collaboration with Adolf Hitler.
"There's kind of a calming feeling I always tell folks when I think of the Holocaust, and the tragedy of the Holocaust, and the fact that it was my ancestors, Palestinians, who lost their land and some lost their lives, their livelihood, their human dignity, their existence in many ways, have been wiped out, and some people's passports," Tlaib said on a recent episode of Yahoo News' Skullduggery podcast.
The eyebrow-raising remarks drew strong rebuke from Republicans, including President Donald Trump and Rep. Lee Zeldin (R-NY).
"Democrat Rep. Tlaib is being slammed for her horrible and highly insensitive statement on the Holocaust," the president said on Monday. "She obviously has tremendous hatred of Israel and the Jewish people. Can you imagine what would happen if I ever said what she said, and says?"
A day prior, Tlaib's office released a statement accusing Republicans and "right-wing extremists" of misconstruing her controversial comments:
SETH MEYERS: So [the podcast] came out last week and a lot of people have been talking about it, both sides of the aisle. You were talking about the tragedy of the Holocaust and the words you used were it gave you a "calming feeling" because you were happy that it became a safe haven, Palestine, it became a safe haven for the Jewish people. Some criticized the use of "calming feeling."  You have said it was taken out of context. I want to give you a chance to provide some context.

REP. RASHIDA TLAIB: For folks that don't know, I mean, my grandmother — my living grandmother, my mom's mom — lives in the West Bank, in occupied territories of Palestine. And what's incredible, you know, the tragedy of the Holocaust, I mean, the reason why Israel was created was to create a safe haven for Jews around the world. And there is something, in many ways, beautiful about that my ancestors, many had died or had to give up their livelihood, their human dignity to provide a safe haven for Jews in our world. And that is something I wanted to recognize and kind of honor in some sort of way.

But I also think it's important. Because I want the Palestinian people also to find some sort of, you know, light in this kind of what's happening. But also, you know, in the end, I said I want all of us to feel safe all of us deserve human dignity, no matter our backgrounds, no matter ethnicity no matter even our political opinions we all need and deserve that kind of equality and justice.

And you know, for me, I wanted to uplift that and bring that to light. And it was unfortunate you know, I got a text message from a friend who's like, "Hey, next time, you know, really clarify. Maybe talk like a fourth grader. Because maybe the racist idiots would understand you better." So I will continue to speak truth to power and continue to uplift my grandmother through love and that's all I can do is continue to share the human impact of what it means to be Palestinian in the occupied territories.

https://www.breitbart.com/entertainment/2019/05/14/rashida-tlaib-to-seth-meyers-racist-idiots-took-my-holocaust-comments-out-of-context/
Comments
comments