Nike just lost about $3.75 billion in market cap after announcing free agent NFL quarterback Colin Kaepernick as the new face of its "Just Do It" ad campaign. It's the 30th anniversary of the iconic TV and print spots.
At the time of this writing, the sneaker company's intra-day market capitalization was $127.82 billion. On Friday, that number had been $131.57 billion.
Market capitalization is the market value of a publicly traded company's outstanding shares.
Shares of NKE stock dropped about 4 percent on Tuesday morning, as #NikeBoycott has been trending on Twitter. The company's valuation has since recovered a bit.
We chose a 5-day snapshot of NKE stock so viewers can see the fall comparing Labor Day Weekend's "before" and "after":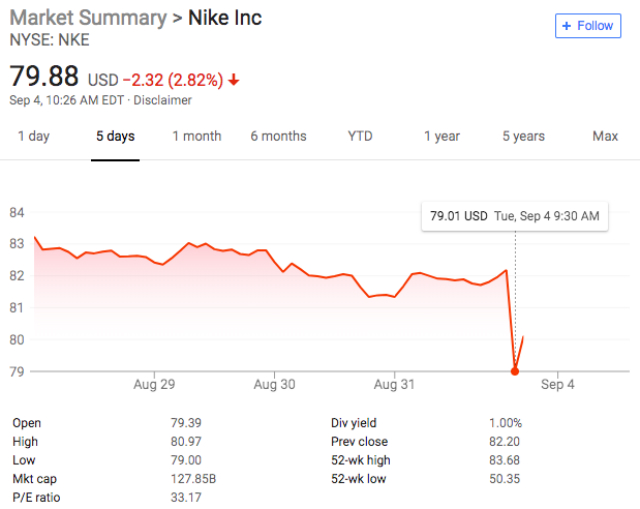 https://politicousa24.com/2019/09/06/nike-loses-3-75-billion-in-market-cap-after-colin-kaepernick-named-face-of-just-do-it-ads/?fbclid=IwAR3VtL8TFB0XEGIqjevI2sCljcW7prz_yWZLLcGG3NvokC6bSU4ldwCzvTo
Comments
comments